It's just so exciting to predict what could happen in the future of a technology like cloud computing and cloud services because of all the problems that can possibly vanish with these!

Now let's see what's coming in the world of cloud computing in the future!


1.The Rise of Quantum Computing


As technological advancement increases, capacity and compute power will have to increase as well to meet future demands. Enter - quantum computing.
Quantum computing will allow computers and servers to process information at rapid rates compared to current standards. As the backbone of cloud computing is built upon rapid network systems that do not get backlogged, cloud computing will play a pivotal role in the increase of computational power and compute efficiency.
The increase in computes capability due to the agility of the Cloud is directly correlated to the adoption and increased use of blockchain transactions.
Cloud will become integral as the doorway to innovation for organizations that want to process massive amounts of data in an economically viable, environmentally sustainable, and socially responsible way.
2. All Things Blockchain
As Cloud Computing is decentralized and scalable by nature, blockchain technology is a natural fit when it comes to cloud development. Many Fintechs are already harnessing the power of blockchain, specifically when it comes to cryptocurrency analysis and validation.
The cloud will become the go-to hosting solution for initial coin offerings (ICOs) and other applications that utilize blockchain, specifically in the areas of cryptographical analysis and data security.
It is not just applicable to the financial sector.
Companies can and will continue to utilize blockchain technology to bring servers into the Cloud, build custom applications, do large scale data analysis, and produce outcome-based tangible results.
3. The Kids are Alright - Increase of digital natives
The workforce continues to evolve and so too do the expectations of its workers. By 2020, the number of individuals joining the workforce would already be well-versed with the cloud and its benefits.
Called "digital natives", these workers will likely band together which will create two distinct groups within organizations: those who are used to digital best practices and those who are not.
In order to retain workers in the second group, practices such as 'reverse mentoring' will become commonplace to train the previous generation in social media tools and modern communication practices.
Businesses will need to adopt cloud computing and other technological advancements to bridge the gap and integrate the two working groups into one unified workforce.


4. Increased Mobility as a Global Standard
Correlated to the increase of "digital natives," mobility will become the number one requirement to attract top talent and retain loyal employees.
Workers that have been accustomed to "Bring your own device" policies will come to expect this as the norm, in addition to the ability to work on the go from anywhere at any time.
Cloud will continue to and increasingly be used as an enabler for meeting the global mobility expectations of its workers and customers.


5. Edge Computing
The primary advantage of cloud computing is its distributed infrastructure. Organizations that require instant access to data and computing power to serve their customers will continue to utilize and rely on edge computing to provide increasingly lower latency and sustainable infrastructure to meet customer expectations.
Edge computing will also be a key door opener for companies to adopt Cloud technologies, as it significantly lowers costs and allows for accessing data rapidly and frequently.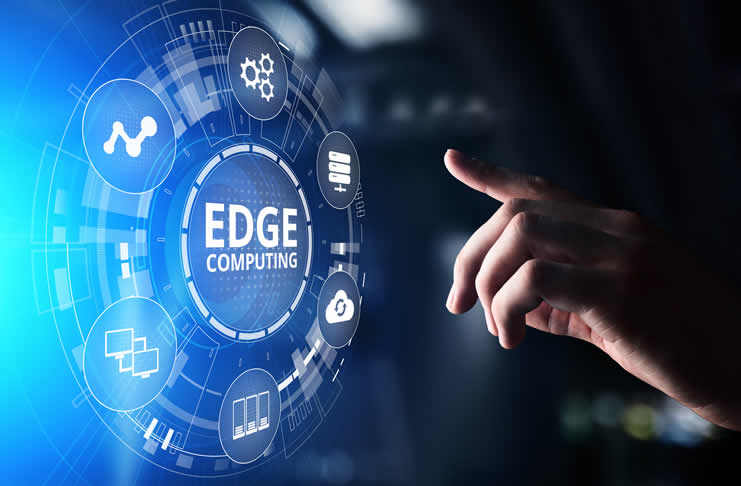 6. AI: Not just a Fad
AI offers organizations the ability to automate and manage their processes in addition to scaling and adapting to the changing needs of the business d
ifferentiation with AI comes from the strategic use of key capabilities within AI.
Applied to large volumes of data, these capabilities unlock new value from internal and external data, both structured and unstructured.
From "The Future Is All Cloud And AI" by Cynthya Peranandam on ibm.com.
As edge computing and AI adoption rise, so too will the adoption of IoT and other systems that access data in real-time to provide predictive insights about customers and industries.

7. Mainstream Serverless Adoption
Serverless computing will continue to be adopted and developed together with a growing number of use cases.
Although available solutions tend to lock customers into a specific cloud provider, a growing number of open source solutions in this space will provide more use cases for serverless computing across the industry.
"Serverless computation is going to fundamentally change not only the economics of what is back-end computing, but it's going to be the core of the future of distributed computing" -- Satya Nadella, Chief Executive Officer at Microsoft


8. Ecosystems of Data Centers
Hardware will be commoditized and software abstracted to be consumed as a service rather than license based subscriptions. Cloud Data Centers will bring once disparate parts together to enhance overall data center performance.
Overarching systems will also be able to manage software and hardware components from a single point, enabling task automation, self-correction, and operation.
This should result in targeted function baed output and measured results, decreasing inefficient processes, and redundancy.
The conclusion is unanimous: not only is Cloud adoption here for the long haul but as more features are developed, the future is only looking brighter for the adoption of Cloud in industries that have been slower to change.
Although there are still areas that may give enterprises pause, the potential to innovate using technologies that function only as a part of Cloud adoption (blockchain technologies, edge computing, AI, just to name a few), far outweigh the risks of not utilizing the benefits of Cloud.
Ultimately, companies will have to face a choice - adopt the Cloud to meet consumer demand or be left behind, as 'digitally native' customers will not accept anything less.

That's exactly what makes the future so exciting.